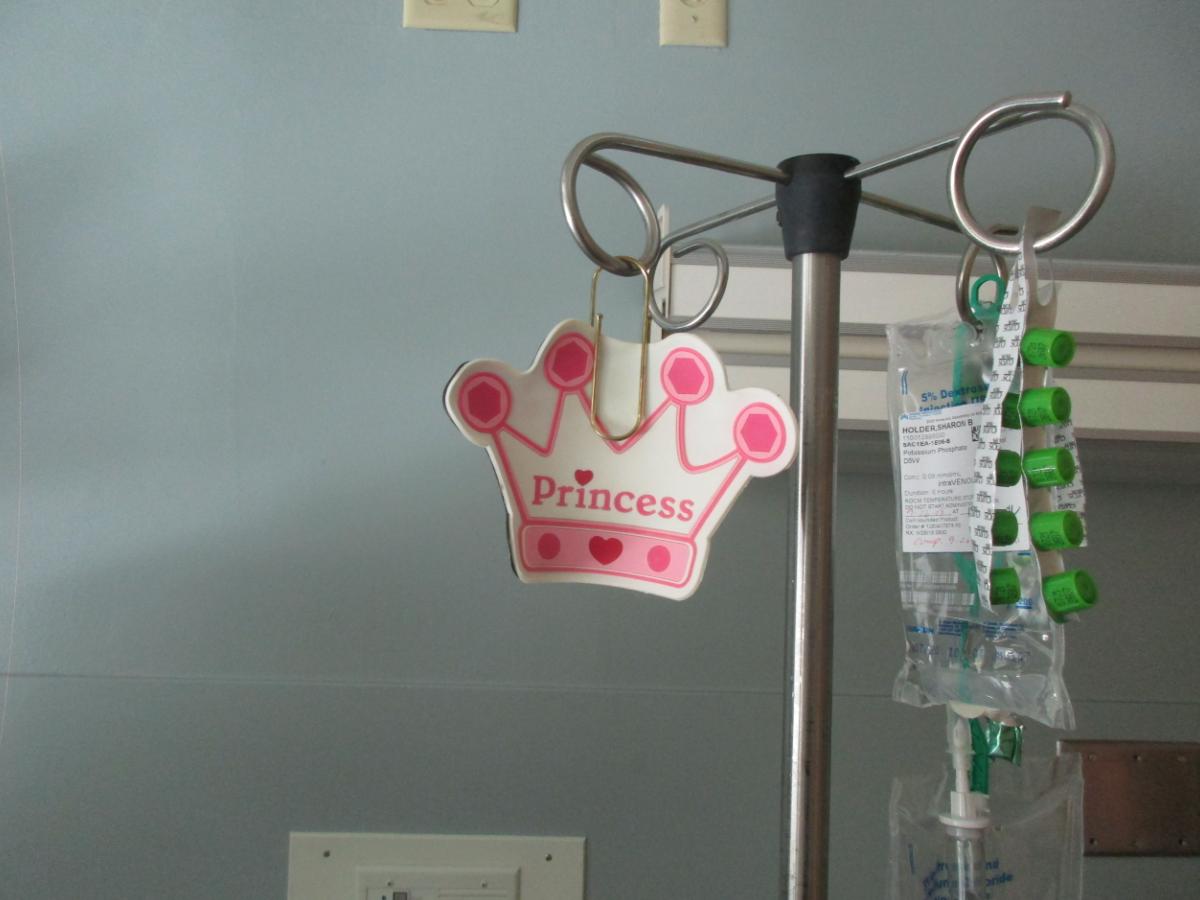 Sharon's in the hospital, Rusl's doing the warsh... W R O N G . . .
s/b fabric softner = ON, normal, extra rinse = ON, temp lever = cold, soil level = heavy, spin speed = high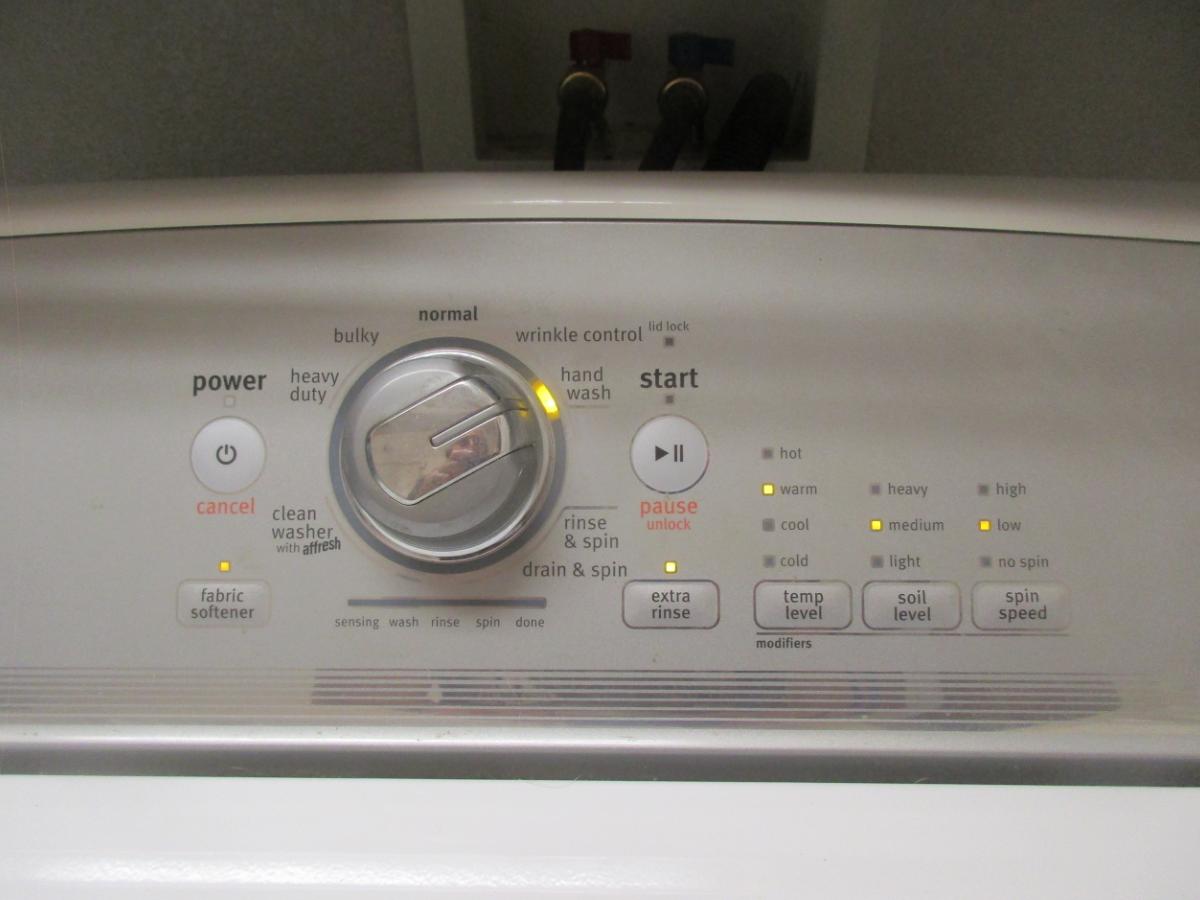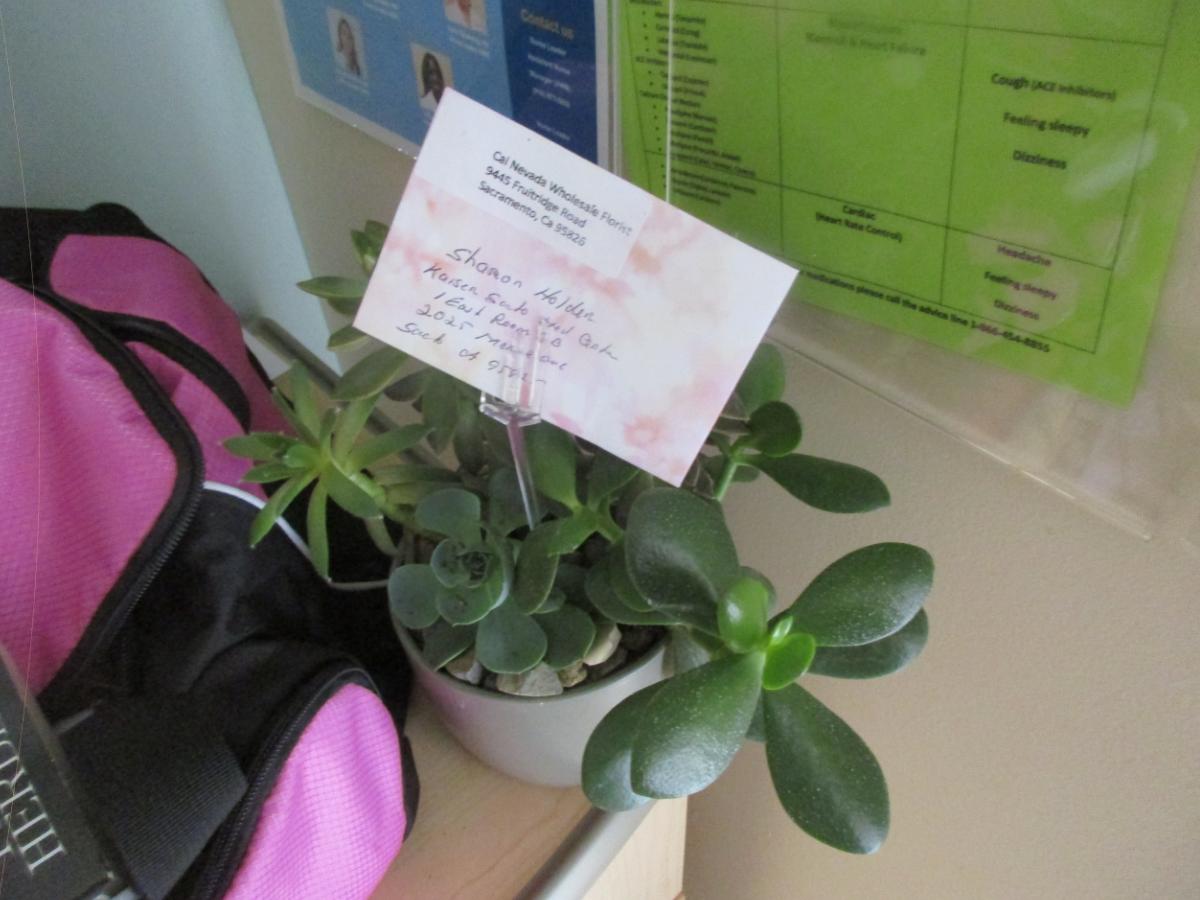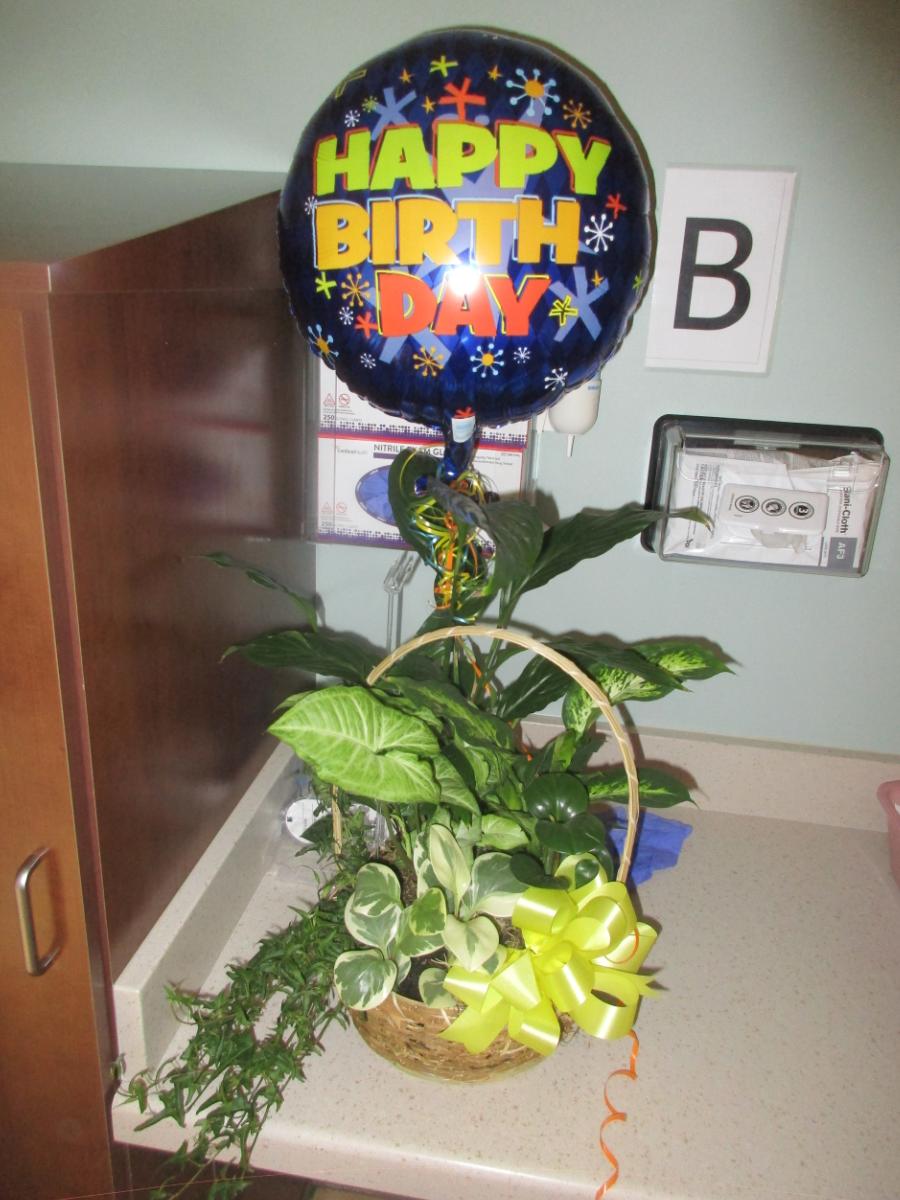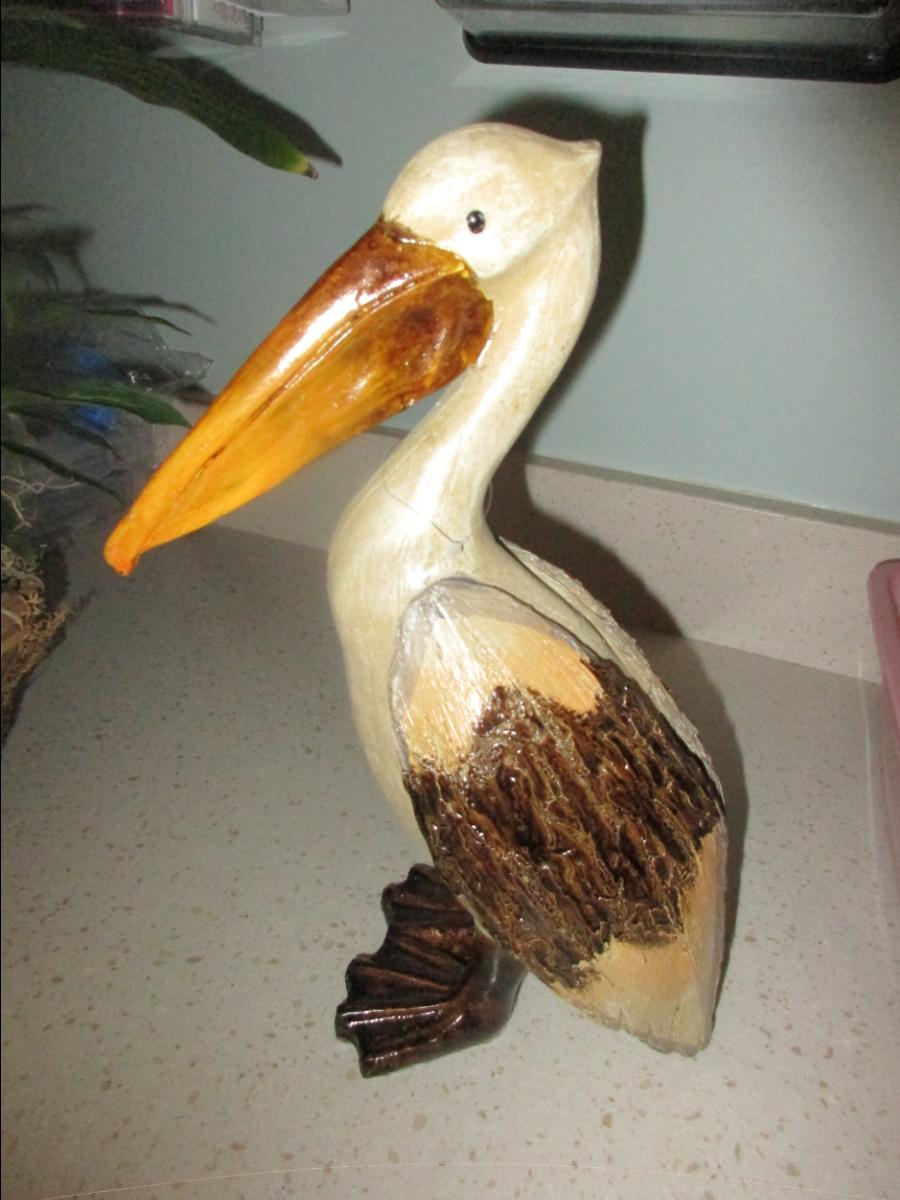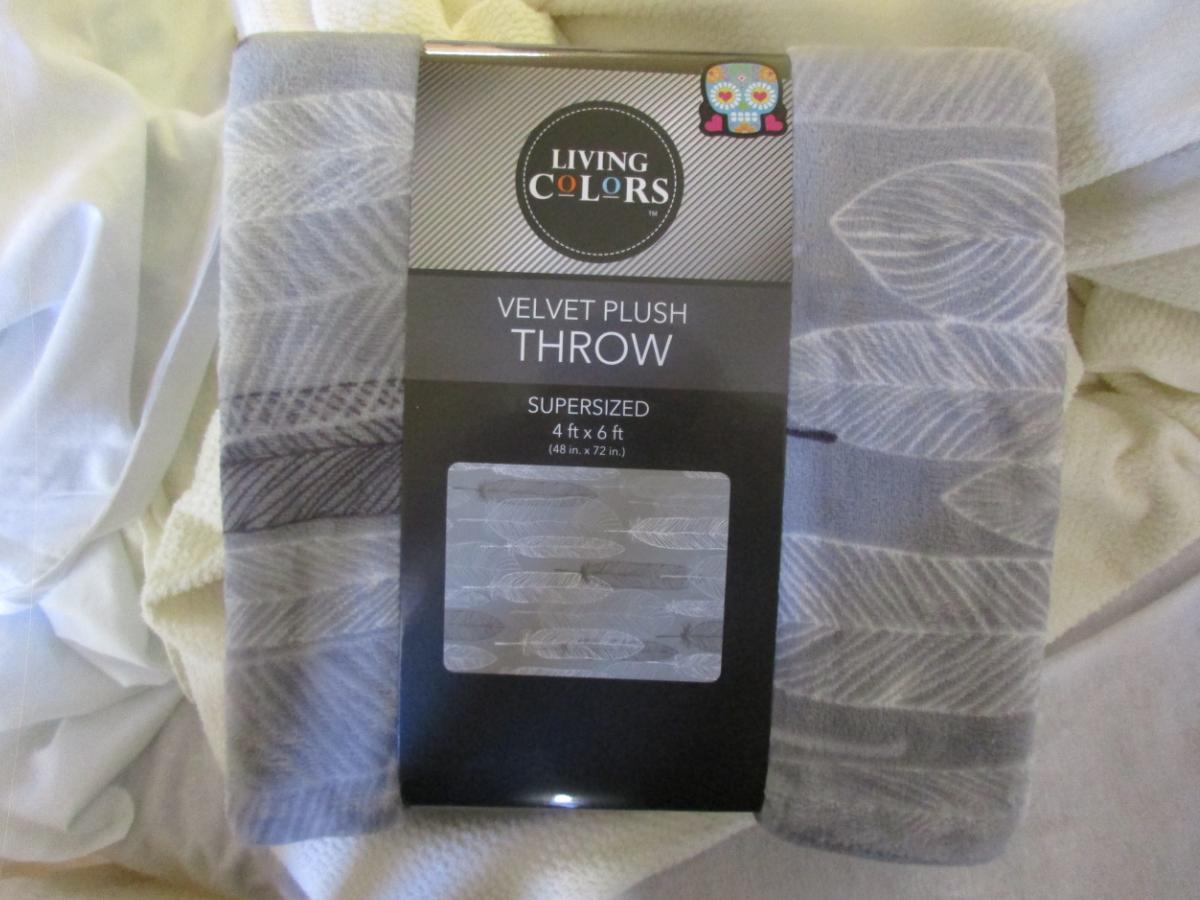 ... the walk to Princess' room... look right... look left...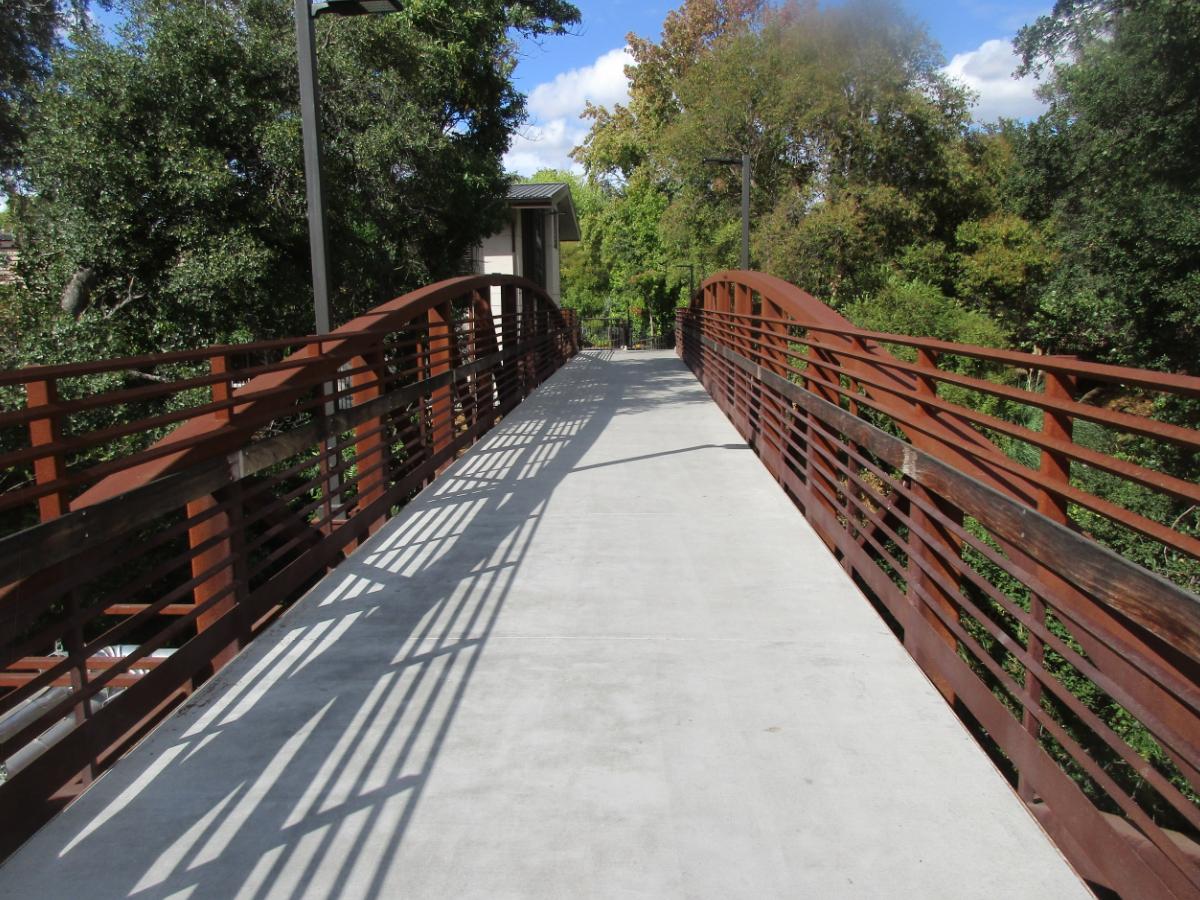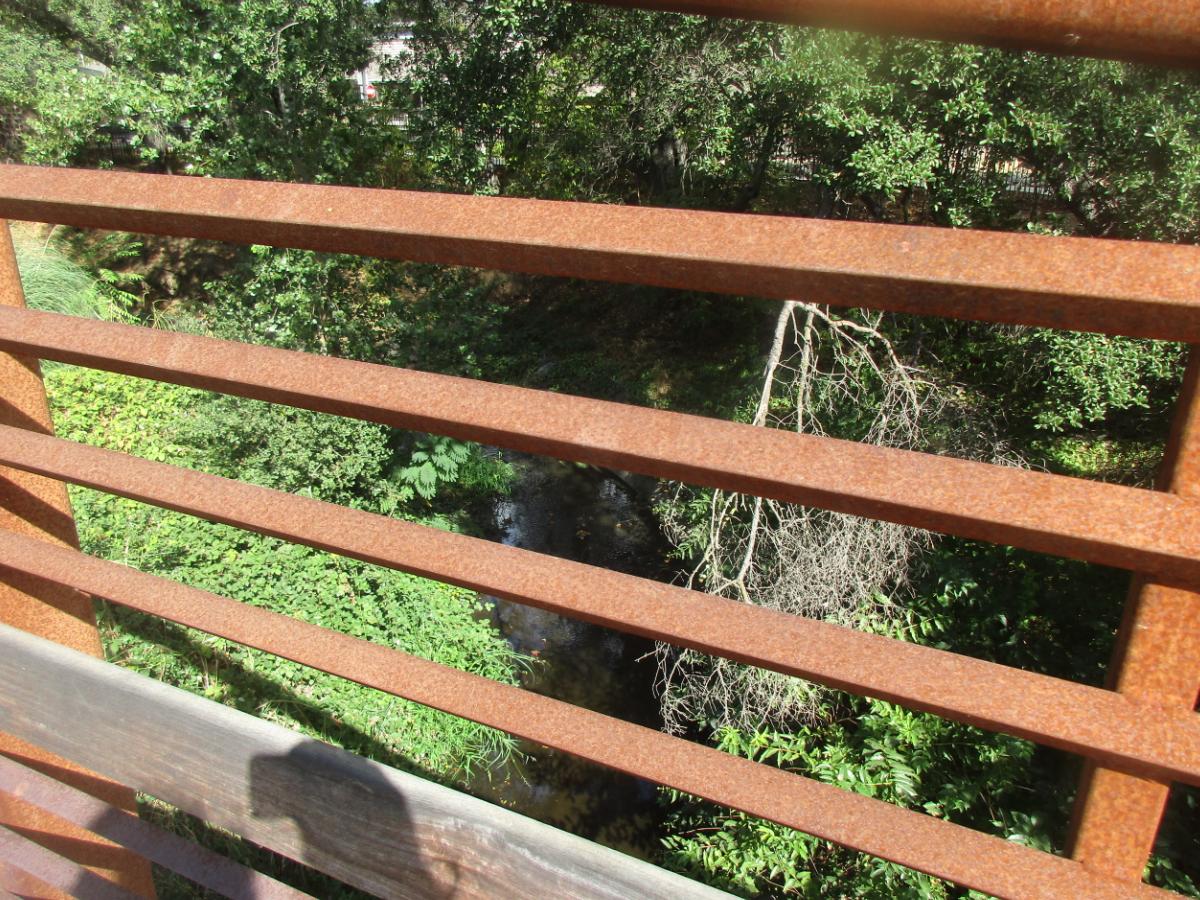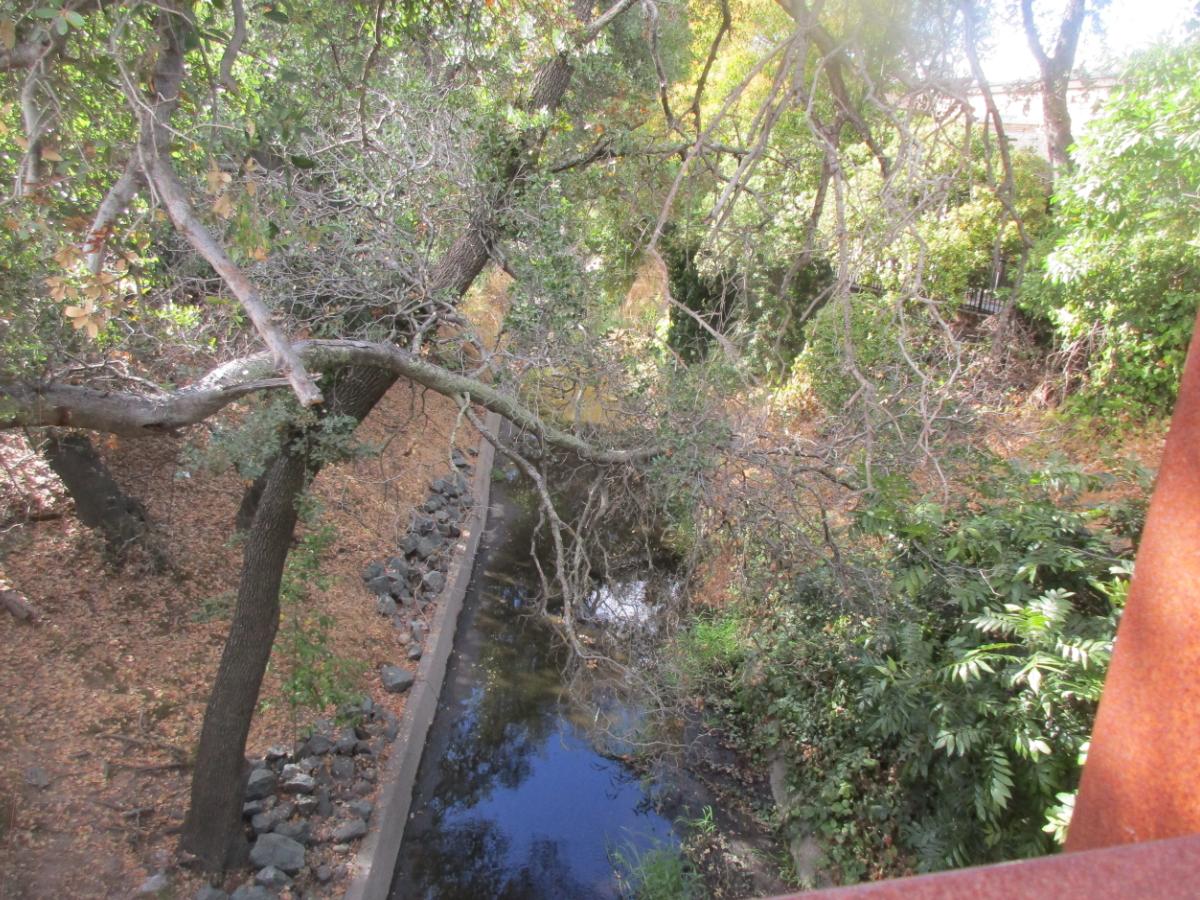 ... view from Princess' room... ROCKS!!!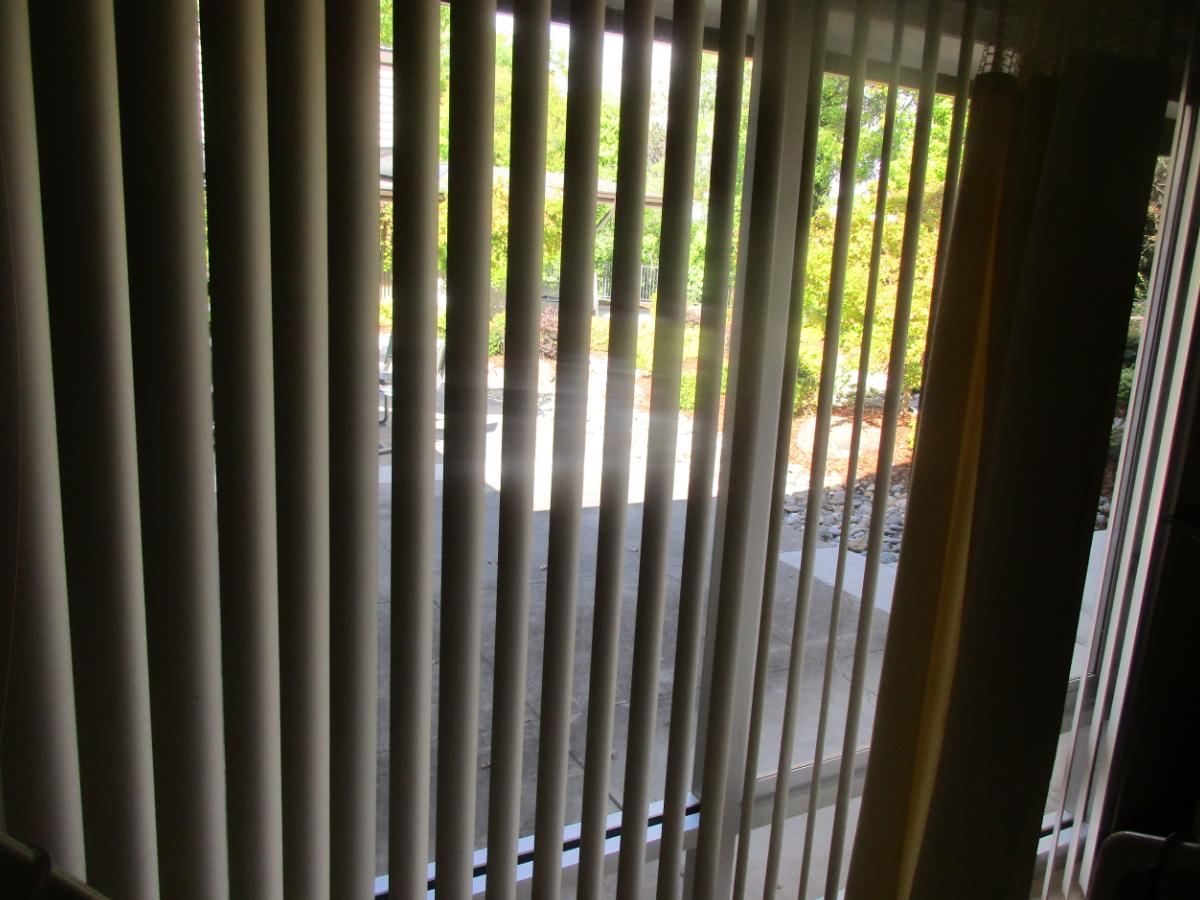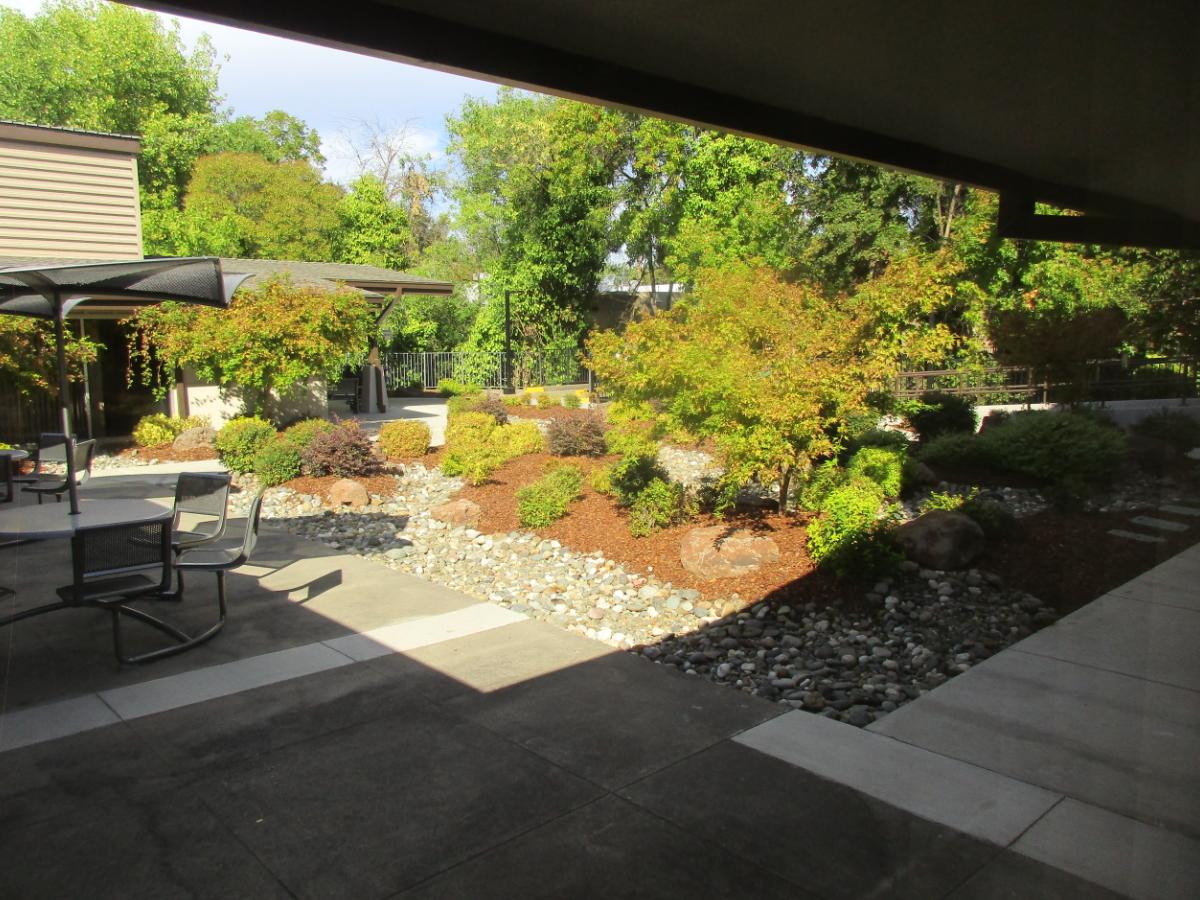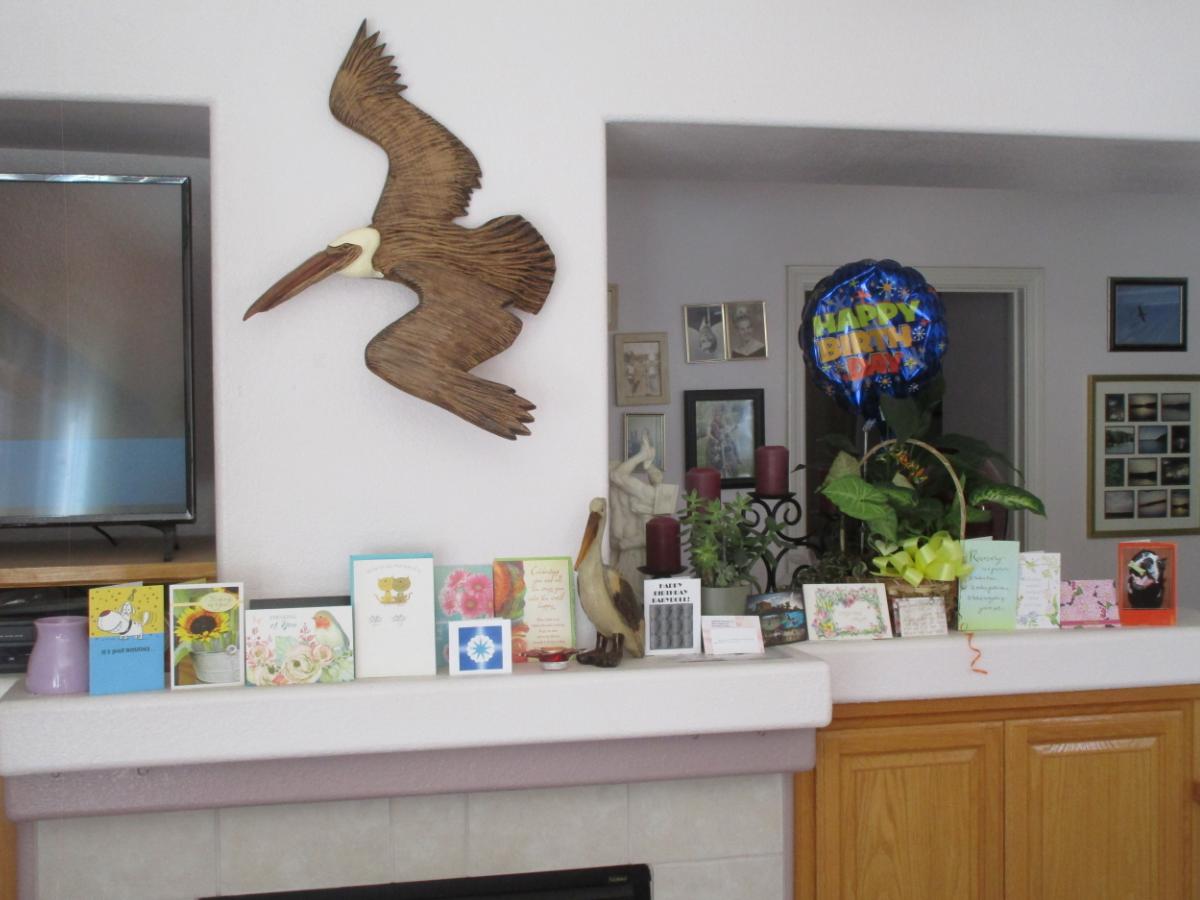 ... the ordeal...

19SEP18, Wednesday: 3rd day of Sharon not being able to eat anything without barfing it back up, and, had not had a BM for the last 3 days
20SEP18, Thursday, 2:30AM: Sharon wakes me up, she's sitting on the side of the bed..."I have really bad stomach pain and am feeling tingly all over"
- to the ER we go...
- dehydrated, so saline solution ordered
- blood drawn
- CT scan ordered, revealed intestinal blockage
- NG (nasal-gastric) tube run in through nose through stomach to intestines
- tube is connected to vacume canister to collect intestinal contents and thus to drain the blockage
- if not clear in 3 days... the knife...
21SEP18 Friday, Room 415B, nothing but ice chips
22SEP18 Saturday, everything broke loose... got clear liquids... got solid food... dischargedat 8pm'ish
23SEP18 Sunday, home... but... not doing so well afterall... all weekend nauseous and pain...
24SEP18 Monday, Babydoll is back in the horsepiddle again (she was there last week to address an intestinal blockage, "fixed" and released)... they say to address a re-occurring intestinal blockage... (I say the intestinal blockage was not all that unblocked when she came home, and therefore she was readmitted for a continuing intestinal blockage)... they put another NG tube up her nose and down into her stomach and said they will monitor her for a couple days and if the blockage does not go away then they will do a laproscopy??? surgery (one with 3 really small incisions) to remove the offending scar tissue which they suspect is the cause of the blockage...

Turns out her problem was more complicated... MAJOR surgery... lasted 7 HOURS... started at 4:30pm and lasted until 11:30pm... Sharon will be in the hospital for next week maybe 2 before being released...

So, here's the deal...

The look around from the really small incision(s) revealed Sharon's small intestines' scar tissue had become attached to her large intestines in a twisting process which eventually caused a total blockage, the solution... open her up for access (looks like about 10in of staples), look at the attached images...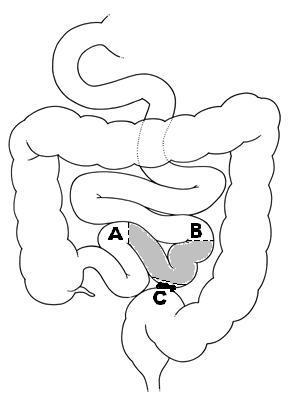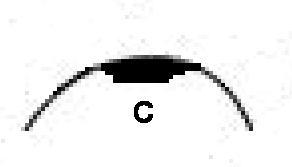 ... Sharon's small intestines was clamped off above point "B" an below point "A" and then removed by cutting on the dotted lines "A" and "B" and "C" - so 95cm (approximately 43in!!!) of small intestines was removed, but, the doctor says she has the majority of her small intestines left, about 155cm (approximately 70in) is sufficient to extract nutrients during food processing. Now, there was still some small intestines attached to the colon at "C" which potentially would cause damage to the colon if removed (because of all Sharon's previous surgeries there and creating more scar tissue), so, the remaining piece of small intestines was left in place, trimmed, and then cauterized to prevent infection thus leaving a "button" where the attachment was. Sharon is in her room now, unless a nurse is dragging her down the hall (she's supposed to be up walking around) and she will be closely monitored for the next few days before she is allowed to have clear fluid food... tic tic tic... then if that all goes well... solid food... tic tic tic... then if that all goes well Sharon can go home...
... but... for now it's room 1 East 6B...
... time passes... tic tic tic...

28SEP18, Friday, still experiencing a lot of pain and is for the most part sleeping until the pain wakes her up at which time she pushes the button for another shot of laudanum... zzzzz...

Today she had her catheter removed and she went potty (#1) and has gone for a couple short walks (which the doctor claims will help wake up her intestines) but she is still on multiple IVs and still has the NG tube up her nose into her stomach which makes her nose and throat sore (doesn't feel like talking much with that tube in, but, she does do "text" messaging) and hopefully the tube will be removed in the next day or two).

She thinks she will be feeling good enough for visitors by Monday (01OCT18)...

29SEP18, Saturday, well DRAT...

they are bouncing her all over the place... can't have co-ed rooms... need quiet co-habitants... etc...

although she was in a different room than noted before, flowers (actually, succulents) arrived today at her room (thank you very much) addressed to her previous room so routing seemed to find her ok... so... use old room number or no room number or if a card - just send it to the house address and I'll take it to her...

... time passes... tic tic tic...

01OCT18, Monday, room 1 West Room 4B now (this is part of the Morse complex, but in a separate building), Sharon's up and walking around some and says phone calls and visitors are ok, and she does email and "text" messaging...

02OCT18, Tuesday, "NG" tube is still in place...
Laudanum, Tylenol, TPN (liquid food), Potassium still by IV
She's up and walking around some more...
swapped beds, now has a window view of a patio... with ROCKS!

03OCT18, Wednesday, HAPPY BIRTHDAY BABYDOLL!
"NG" tube is still in place...
Laudanum, Tylenol, TPN (liquid food), Potassium still by IV
She's NOT up and walking around some more...
had a CT scan which did NOT reveal any major concerns...
vacuum discontinued on the NG tube...
and waiting to see if there is any nausea...
and if no nausea then there's talk of clear liquids soon...
enjoying window view of a patio... with ROCKS!

04OCT18, Thursday, "NG" tub was removed today... YIPPIE!!!
Laudanum, Tylenol, TPN (liquid food), lipids, Potassium by IV continued
clear liquids...
- breakfast: ice chips and water
- lunch: chicken broth, jello, apple juice
- dinner: beef broth, jello, tea
She's up and walking around more and frequently visiting the bathroom to go potty (#1 & #2)
BP is a little wacky... 101/58 to 155/105
- possibly high corresponding to high pain level right before laudanum dose
and... her spirits are up!

05OCT18, Friday, Laudanum till noon, then Norco (actually, it's not Laudanum, its Dilantin I think)
- finish current bag of TPN (liquid food) then cease
- foggy liquids...
- - breakfast: cream of wheat, milk, vanilla pudding, tea, Metamucil
- - lunch: I forgot... similar to breakfast...
- - dinner: tomato soup, vanilla jello, tea
She continues walking and visiting the bathroom
BP is a little wacky... 133/85 and later back to her "normal" 105/83
Shampooed her hair in bed after breakfast...
With continued progress - home sometime early next week...

her spirits are good but still has a lot of pain/tenderness and tires quickly...

06OCT18, Saturday, Sharon called about 9am... they're going to discharge her this afternoon...

The Norco on 4 hour intervals doesn't work as good as the Dilantin... takes about an hour to reach full effect, then peters out over the next 3 hours, so only get 1 good hour of no pain so try to plan to do things during that hour, like shower, or eat, or walk, or whatever...

Well... rest for the next few weeks is the order of the day...

07OCT18, Sunday, well, a diet of "soft" stuff for now with no whole grains or hard to digest stuff like broccoli or cauliflower... but... there's a lot of stuff she can have so there's no problem fixing something she will like... like mashed potatoes...

appetite... yes... but... she's not eating BIG meals... small amounts... e.g., last night: half a chicken breast, a heaping tablespoon of mashed potatoes with butter and a heaping tablespoon of tapioca...

this morning, coffee (which she hasn't had in 3 WEEKS!) so far and now for breakfast, a couple scrambled eggs, and 1/2 an English muffin... and MORE coffee...

and... frequent trips to the bathroom... gooooood...


08OCT18, Monday, not feeling all that great, nausea...

09OCT18, Tuesday, in to get staples removed... and they kept her!!!
- turns out she had a UTI... given antibiotics...

10OCT18, Wednesday, IV and close monitoring...

11OCT18, Thursday, discharged... again... with antibiotics to take...

... home since then...

19OCT18, Friday, blood test and urin sample, continue the rat poison and the is no trace of UTI

21OCT18, Sunday, took a shower by herself... standing to do it...

... so far so good... will be ready to take the bike out before long!!!